When it comes to proper support, stability, and posture, sometimes you need a bit of extra help to reach your goal. Fortunately, there are many different products on the market to choose from. Gait trainers and standing frames are specifically designed to aid in the user's mobility and stability. This is a worthwhile investment for those who are learning or rehabilitating their walking abilities. Keep reading to learn more.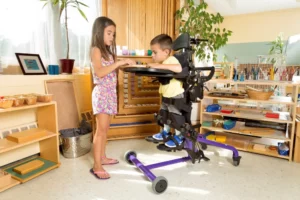 Standing Frames
Standing frames improve circulation and range of motion, build endurance, improve bowel function, reduce swelling, and more. Standing frames offer a variety offer a variety of options to meet most every need. Examples include multi-position standers, dynamic/mobile standers, single-position standers, active standers, and many more.
Gait Trainers
Gait trainers will assist with a broad range of mobility-impaired patients. Users who might benefit from this product include spina bifida, cerebral palsy, and those who are working to rehabilitate their movement after a traumatic injury. There are various Gait trainers come in a multitude of sizes and models with different options to accommodate all types of users.
At Tanglewood Medical Supplies in Stephenville, TX, we're proud to carry an impressive selection of products and models for both standing frames and gait trainers. For more information, give us a call or contact us via our website! Our staff would be happy to answer your questions and help you determine which standing frame would be best for your needs.
Watch These Products in Action: