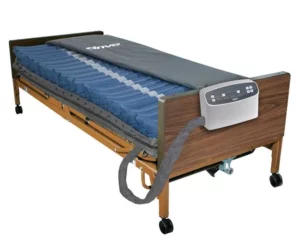 What is an Alternating Pressure Mattress?
An alternating pressure mattress (APM) is a hospital medical air mattress that is designed for the treatment and prevention of bedsores, pressure sores, and decubitus ulcers.
Alternating pressure therapy uses pressure redistribution or off-loading. This helps reduce pressure in some areas and stimulates blood flow to nourish the skin. The alternating pressure mattress system uses cells or air bladders to inflate and deflate under the patient. When the cell deflates it changes and reduces pressure allowing increased blood flow and circulation to the skin and tissue.
Who Needs an APM?
Patients need alternating support surfaces to help get blood to the skin. This is critical when a patient is sitting or lying down and cannot move much. The skin can breakdown without adequate blood flow, oxygen or nutrients.
Alternating Pressure Mattresses also provide comfort, when it comes to a mattress, comfort is a main priority. Alternating pressure mattresses can be extremely comfortable.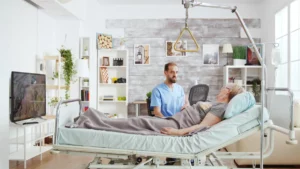 Adjustable Home Hospital Bed:
When you use an APM in conjunction with a Home Hospital Bed you get even more therapeutic value by combining the 2 devices in a home health setting. The ability to adjust the height of the patient's legs and head allow for better offloading and greater circulation as well as ease of caretaking when patient is eating or transferring to a wheelchair or other device.
You may also be interested in Patient Lifts and Bathroom Safety