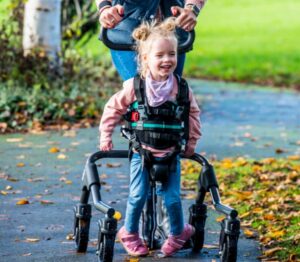 Sunrise Medical has announced the launch of Leckey MyWay+ Gait trainer. The MyWay+ was designed to help children explore and become more independent. The open-frame minimalist design supports children in a standing position to improve their stepping and maximize the opportunities for exploration, participation, and interaction.
Further Reading: Sunrise Medical Completes the Acquisition of Ride Designs
MyWay+ is tailored to fit every need and ability with its unique frame, wraparound harness and wide range of accessories. We listened to your feedback and have expanded the possibilities for children to explore, develop their cognitive and social skills and to grow physically.
Early intervention is crucial to maximizing a child's full potential. The size 1 frame was re-sized in order to better accommodate the body proportions of younger children and give them the best chance to develop their cognitive, physical, and social abilities right from the start.
MyWay+ is a walking frame that brings individuality into the world. The new robust indoor-outdoor wheel ensures that the child can take any path they choose. These wheels are made of durable materials and feature side-step technology. They also come with anti-rollback technology, direction lock and variable resistance.
The frame can be customized to meet the needs and abilities of each child by combining a wide range accessories. New complex user handles with multiple adjustments and a variety of grips are available to provide additional forearm stabilization for children who have low tone. For additional head support, a complex headrest has been developed. A narrow saddle, which is available for smaller users, reduces hip abduction. A new saddle drop can be ordered to reduce thigh abduction and scissoring.
"Emilia loves the freedom her MyWay+ Gait Trainer offers her, and being able join her siblings in playing together," says a mother of a recipient of the MyWay+. "The MyWay+ gives her the best opportunity for independence and movement."
The minimalist open-frame design offers support without restriction, and encourages participation and interaction. MyWay+, with its newly designed indoor-outdoor castors and other features, is designed to allow users to explore different environments.
Original Blog: https://rehabpub.com/mobility/gait-trainers/sunrise-medical-launches-leckey-myway-gait-trainer/?utm_term=RM%20Rehab%20Today%20Oct%202023&utm_campaign_type=newsletter&utm_hsid=415264501&utm_medium=email&_hsmi=277607703&_hsenc=p2ANqtz-8mPR16FJO-KCLKogQUCMKKu-Vpp7mXogyKyxPvDAFlIuDcFwpIEBxTJsm_RKTcr-C4TFHsTSU5x6EoI4e2ErI7k_z9uw&utm_source=newsletter