The Key to Complex Rehab Coverage for Power Bases and Seats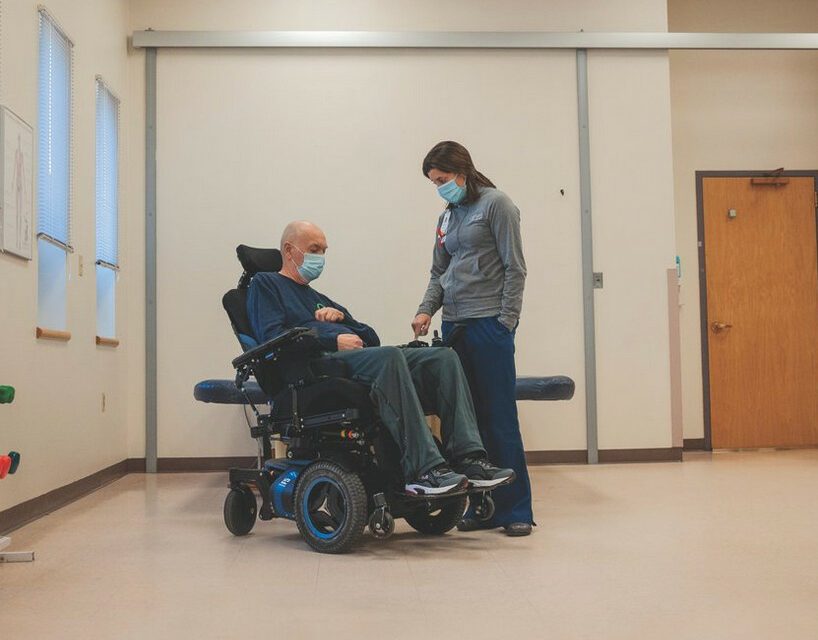 PHOTO CAPTION: An extremely thorough assessment is important. But if the clinician doesn't clearly state in the letter of medical necessity the specific justifications for why a client needs particular complex rehab wheelchair equipment, insurance won't authorize coverage. (Photos: Karen Ingham)
How to create ironclad documentation to help clients get insurance coverage for the complex rehab power base and seat functions they need.
by Melanie Hamilton-Basich
Being able to use wheelchairs with specific power bases and power seat functions such as power recline, elevating leg rests, and power tilt is essential for the well-being of certain clients. But it can be difficult to convince insurance companies of this, especially when you factor in the complexities of the system. With recent changes to the justifications for complex rehab insurance coverage, it's more important than ever to provide ironclad documentation to secure coverage for the wheelchair equipment and functions clients need to live their lives as fully as possible.
Shouldering the Complex Rehab Burden
Jillian Cacopardo, MPT, ATP/SMS, has seen an increase in insurance denials and "pend for further info" responses overall as the clinical program coordinator for wheelchair assessment services at Gaylord Specialty Healthcare in Wallingford, Conn. "I had 12 pends or denials in 2019, 10 in 2020, and in 2021 I had 25," she shares.
Cacopardo says this year she hasn't experienced as many denials or requests for more information. "I think I was able to find the common denominators," she says. Now she provides additional information and writes in more plain language to make the justifications in her letters of medical necessity more clear and understandable. She sees so much paperwork—either beforehand or afterward to appeal a denial—as a burden, but a necessary one. It's all about the right approach to documentation.
Cookie Cutter Won't Cut It
"I think the biggest tip in the current climate is that it really has to be patient centered," says Erin Michael, PT, DPT, ATP/SMS, at Kennedy Krieger Institute's International Center for Spinal Cord Injury (ICSCI) in Baltimore. "A lot of our EHRs, you can click and go down the line and check off justifications. But what we're hearing from other clinicians across the country about denials is that they're being told the justifications are too generic."
Considering the amount of work that goes into a wheelchair assessment, the details of which are also provided to insurance companies, Michael finds this extremely frustrating. "When they're thorough, everything is in there," she says. "They paint a picture of the patient, their functional level with or without the chair, and what their life is like. But that doesn't seem to matter," she laments. Everything describing exactly what a client needs and why must be written out in detail separately as well, or insurance companies won't authorize coverage. "So be very clear," Michael cautions. "You're talking about a specific person and their specific needs."
Cacopardo agrees. She has also found that it's important to leave no room for debate over exactly what equipment is needed by specifying why other equipment would not meet the client's needs. "When trying to recommend a group 3 power base for a patient, to prevent denials, it's important to disallow the lesser equipment," Cacopardo explains. "Say why group 2 is not appropriate. And not just group 2, but group 2 with leg extensions, etc, because the client can't get alternative drive controls or can't get the width or depth needed with Group 2."
Along the same lines, Cacopardo always specifies why a client needs a combination of features and cites published research to prove her point. "Rule out why, say, just tilt or just recline won't work for the patient—why you need both," she says. "The more educated you are on the features and the bases, the easier it is to write that letter. It's not easy, but easier."
Utilize Available Resources
While it's essential that justifications be specific to each patient, there are ways to use resources already available as part of the process.
For example, when it comes to citing research, Michael and her team regularly reference and use information from the position papers the Rehabilitation Engineering and Assistive Technology Society of North America (RESNA) makes available to bolster their justifications. RESNA updates them every few years to make sure the information is as current and helpful as possible. "There's one on tilt recline and elevating leg rests, and it goes through why if you're getting one you should get all three," she says. "There are so many ways the seat functions all work together." While clinicians will still need to state very specific information about a particular client in their documentation, the information from RESNA "is a great place to start," Michael says. "It can spark the thinking train."
Templates are another helpful tool. Cacopardo uses two templates that had already been in use at Gaylord Specialty Healthcare: one for the state of Connecticut and one for private insurance. She uses them to build upon when customizing documentation for each client. For someone looking for a new template to work from, Cacopardo recommends the Functional Mobility and Wheelchair Assessment Form developed by Houston Methodist Hospital, a non-profit corporation in Texas. The copyrighted form is free for any therapist to use. "They have some good starting points for justification also," she adds.
To make it even easier to learn and reference Medicare guidelines, Cacopardo keeps copies of them in multiple places at work so she can check any information she might be unsure about. But she also leans on durable medical equipment providers for certain information. "Always reach out to your DME provider if you don't know what something is used for," Cacopardo recommends. "There are some things that I'm not as familiar with, so the DME provider will help me with that."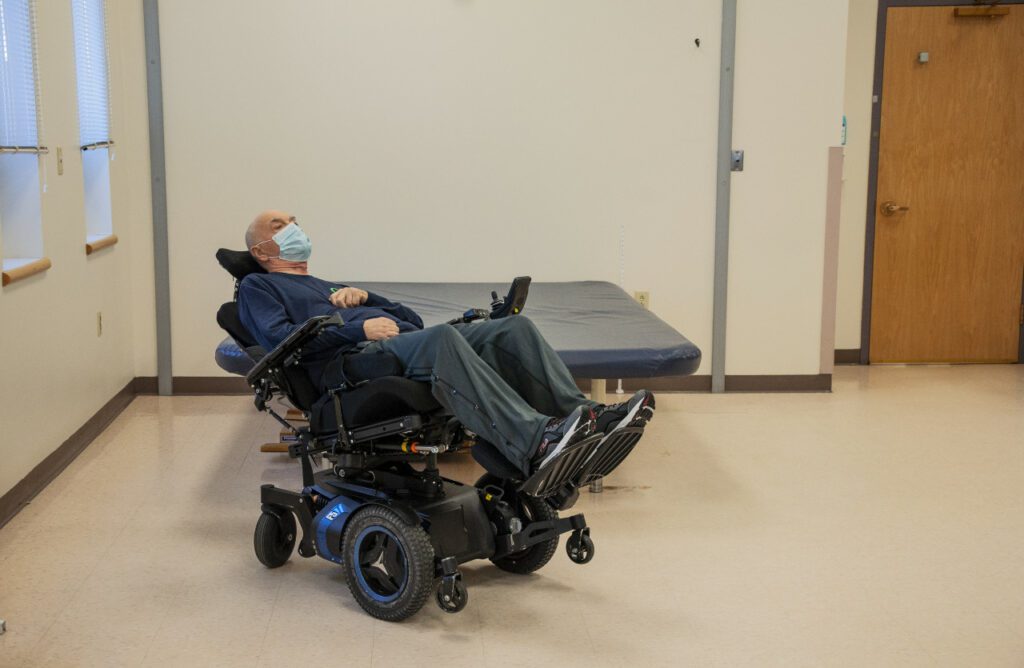 Let Pictures Tell the Story
Photos can also greatly enhance a therapist's ability to tell a client's story. As they say, a picture is worth a thousand words when it comes to complex rehab. "If you feel like you can't clearly express it in writing, put in a picture," Michael urges. She offers the example of a person who can't sit upright without tilt or recline. At a 90-degree angle, if they pick their hands up and aren't using them to support themselves while sitting at a table, they will fall forward onto the table. This means they can't use their hands to eat or groom themselves. The enormity of this problem is much easier to convey through photographs.
Take a picture of them falling forward at 90 degrees "and take a picture of them in recline and show them sitting up and putting food into their mouth," Michael recommends. "You can make it very clear as to why they need those things."
Complex Rehab Equipment Trials Are Key
While they may come near the end of the documentation process, "Equipment trials are key," stresses Michael. She counts this part of the process as one of the two most important pieces, right up there with making justifications specific to the client.
She says, for her, it's a do and a don't: "Do equipment trials because it can help you justify the equipment. Don't recommend equipment you haven't tried with them."
Having a client try out the different types of chairs, cushions, and other equipment that might be a good fit gives the clinician the opportunity to document everything. They can take photos if needed, do outcome measures, and show that with their current equipment the client is not as independent, but that with the demos they're more independent, Michael says.
One silver lining to come out of the COVID-19 pandemic is recognizing the benefits of telehealth, including for equipment trials and deliveries. Trying out a certain wheelchair in the clinic is completely different from testing whether its width and turning radius will be adequate within the home, for example. "There are just some things that you can never understand until you see it. Like a complicated turn from a hallway into their bedroom," says Michael. "It's an interesting gain for telehealth; we can bring the clinic to them and see their environment."
In this way, telehealth can help clinicians who are having difficulty getting the information they need from clients during assessment. But Michael also suggests asking the same questions in multiple ways to better understand the client's challenges and what equipment could resolve any issues. "There are a lot of places where you can get justification for the different pieces," she says. "You never know where you're going to find it, so just keep looking."
Don't Give Up
It can be extremely discouraging when clients receive denials for coverage of complex rehab technologies that they need. "It's kind of wild how it feels like we're going a little bit backwards," opines Michael. But she implores clinicians not to give up.
"Don't just give in," she says. "Do the work, justify the equipment, because our patients truly do need it. We're not taking advantage of the system. If there's justification for it, let's do that. Because the more times we give in, we're just proving them right in theory. If they say it's not medically necessary, we shouldn't just say, 'OK.' That's not the way to do it."
Another important piece of advice from Michael? "Don't not ask for something because you're not sure if it will get covered."
Clients rely on therapists to fight for the complex rehab equipment they need. Cacopardo worked with one patient who had a neurologic diagnosis and a spinal cord injury who should have qualified for a group 3 power wheelchair according to the guidelines, but insurance kept denying him coverage. He was not approved for power recline, even though he was catheterized, which should have been enough of a justification. Then he ended up with a pressure sore, too, because he wasn't able to adjust properly in his manual wheelchair for months. Cacopardo kept appealing the decision and finally got him coverage for his power wheelchair. "It took 9 months for that poor man to get his chair," she says. But she didn't give up, and it ultimately paid off. RM
First Published: https://rehabpub.com/seating-positioning/the-key-to-complex-rehab-coverage-for-power-bases-and-seats/?utm_term=RM%20Rehab%20Today%20May%202023&utm_campaign_type=newsletter&utm_hsid=415264501&utm_medium=email&_hsmi=259198713&_hsenc=p2ANqtz–cDebnmZ8m3sdcPxswa-2G00aPhi3fRR4JWkGeTYZkPKVjX6xDBd7NfU647NiMOFjA1b9X_2cqS_bnTqLh9cjgphSWhA&utm_source=newsletter